It is advisable to have your boiler serviced every year. This must be carried out by a Gas Safe Registered engineer. Always check the engineers ID and make sure the qualifications are in date.

Why's it's important to have a boiler service
Having your central heating boiler serviced properly is essential for your safety and also to make sure it is working efficiently. Also, if your boiler is under manufacturers warranty one of the requirements is to have it serviced every 12 months. Otherwise your warranty will be void and this could lead to unnecessary costs.

What's included in a boiler service?
On arrival the engineer will try to get familiar with the appliance and will ask you a few questions about the history of it, if you had any problems lately. They will do some visual checks and after this will carry out checks as advice by the manufacturer. They will test for safety, performance, check for water and gas leaks. Every boiler will have a set manufacturer instructions when it comes to servicing. Some old conventional boilers will need to be dismantled, the burner, heat exchanger and fan will need cleaning and reassembled. Newer boilers will have a gas flue analysis, this will tell the engineer if further investigation is needed. Any filters and condensate traps will need cleaning. Any finds will be reported back to you the customer/ homeowner. Samples of the central heating water will be tested. Where needed inhibitor levels will be topped. If you have water expansion tanks in the loft, they will be checked and reported back to you.
At the end the engineer will fill in a report and a copy will be left with you. Also if there is a benchmark book this will also be filled in.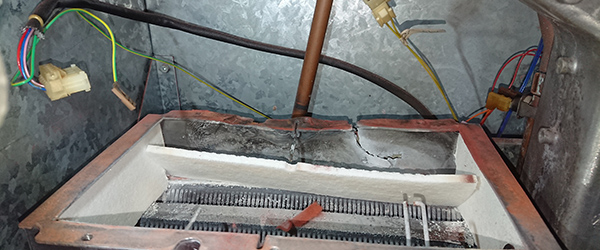 Boilers are just like cars, they do work hard and care has to be taken. For example a new customer bought a house just over 2 years ago where the boiler was over 12 years old. They have not had it serviced. The insulation board in the heat exchanger got damaged and this caused the boiler more damage. Please see the photo. This happened in the week leading up to Christmas...New boiler was fitted, but the process was stressful for the homeowner and maybe regular servicing could have delayed the extra expenses.

Boiler servicing available in Northampton, Wellingborough and surrounding areas
So don't leave it too late. If you're based in Northampton, Wellingborough or the surrounding areas, we'll be more than happy to help. Call us or fill in a form request on our website.